Current heavy lamb market trends
The National Heavy Lamb Indicator has been on an upwards trajectory since the start of the year, with a brief correction mid-January. On Tuesday 9 February, the indicator averaged 845¢/kg carcase weight (cwt), up 17¢/kg year-on-year, which was a reflection of yardings for the same day reporting a significant decline this year, down 47% to average 12,700 head.
Over-the-hooks (OTH) prices have followed a similar trajectory, with the National Heavy Lamb OTH Indicator averaging 772¢/kg cwt for the week ending 12 February. Saleyard and processor prices have held firm since indicators recommenced at the start of the year, however, this primarily reflects low supplies rather than heightened demand.
What's in store for the heavy lamb market moving forward?
Tight supplies were the driving factor behind elevated prices during 2020. With the most recent sheep projections forecasting heightened slaughter and an increase in the national flock, will supplies continue to support heavy lamb prices going forward?
One potential influence on supplies will be the impact of the wool market, with prices falling across all Merino fleece categories at the end of last year. In recent months, shearing costs have also tracked up, with a recommendation for a 15% rate increase (non-binding) proposed by the Shearing Contractors Association of Australia (SCAA). A softer market into 2021, compounded with heightened expenditure, could see growers turning off more Merino types and secondary sheep, while also incentivising them to finish off lambs to capitalise on heavy lamb prices.
Last year saw a turnaround in conditions that improved feed availability and primed producers to increase stocking rates. For the 2020 spring lamb crop, marking rates lifted substantially, creating  flow-on effects for the number of available lambs moving into 2021. This could see higher numbers of heavy lambs marketed from grassfed programs in the first half of the year.
Inversely, light lambs have maintained a premium to heavy categories since October last year. On Tuesday 9 February, the National Light Lamb Indicator averaged 865¢/kg cwt, a 25¢/kg premium to the National Heavy Lamb Indicator. The National Light Lamb OTH Indicator has followed similar trends, averaging 793¢/kg cwt for the week ending 12 February, up 21¢/kg on the Heavy Lamb OTH Indicator. While a light lamb premium reflects the ongoing demand for lighter carcases, prices for heavy lambs remain competitive. Subsequently, the incentive to bring forward finished lambs holds firm, exacerbated by the abundant availability of feed that has allowed producers to achieve heavier weights.
Looking ahead, the aforementioned factors could lead to a spike in heavy lamb supplies that could translate into downwards pressure on saleyard and processor prices. Prices do, however, remain volatile, especially as end markets move through different stages of COVID-19 recoveries.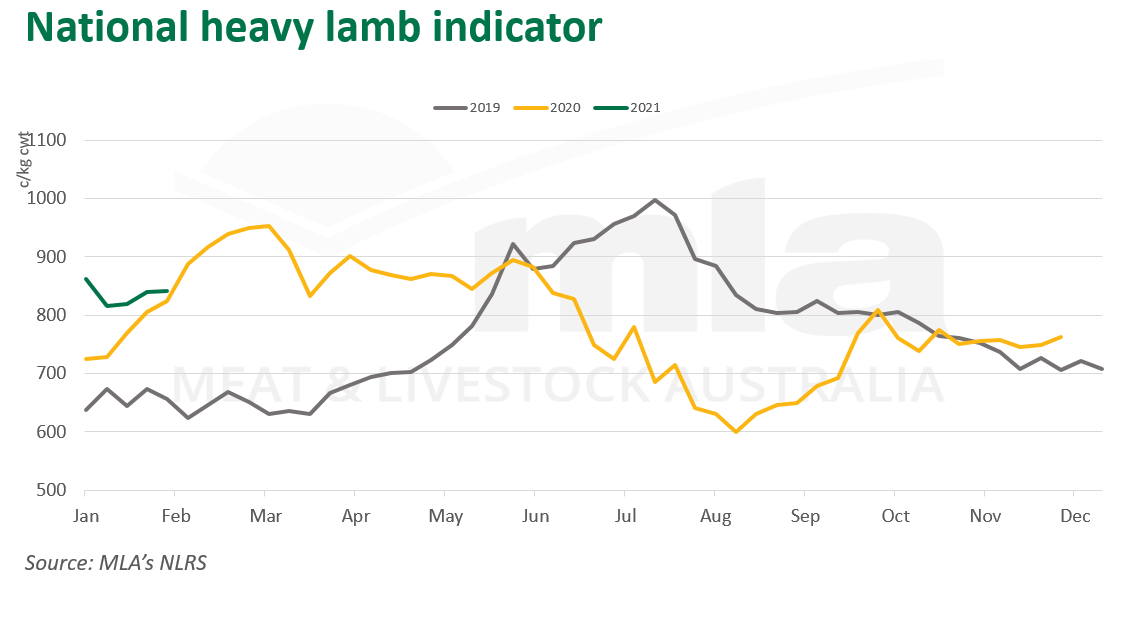 Article credit  –   © Meat & Livestock Australia Limited, 2021