With the 2020 Tokyo Olympics aiming to be the 'greenest games ever', food sustainability has become a hot topic in Japan, Australia's largest beef export market.
To ensure the Australian beef industry is recognised as a global leader on the issue of sustainability, Meat & Livestock Australia (MLA) Japan hosted the inaugural Aussie Beef Sustainability Forum in Chiba City, in February, in conjunction with the Supermarket Trade Show.
The forum was attended by 33 major customers from retail, trade and foodservice, including McDonald's and Japan's largest retailer, AEON, along with 21 journalists and key influencers.
MLA International Business Manager – Japan and Korea, Andrew Cox, said the forum was an opportunity for the Australian beef industry to demonstrate its ground-breaking work on sustainability, and encourage some of Australia's largest beef customers to talk about their sustainability goals and initiatives.
"The Australian beef industry is really the first in this space and the forum was an opportunity for us to get out in front and put our sustainability credentials forward with key customers," Mr Cox said.
"The forum brought major Japanese stakeholders together to share their experiences and insights, and help position users of imported beef positively as sustainability grows in the consumer consciousness.
"Interest in sustainability in Japan has not been as mainstream as it is in western markets, but it has certainly been increasing over the past few years, and the Tokyo Olympics has pushed the topic further up the agenda with consumers.
"It's an area where we've got a great story to tell and be ahead of our competitors. It also builds on Australia's reputation as a safe and trusted supplier of beef, and that we're a natural place for beef production.
"The Australian beef industry has set the goal of being 100% carbon neutral by 2030 (CN30) and we're the only beef industry globally, I believe, to have such a goal.
"Since 2005, the Australian red meat industry has already reduced its proportion of national greenhouse gas emissions by 45%."
MLA Manager – Sustainability Strategy & Stakeholders, Pip Band, was a keynote speaker at the forum, discussing the Australian Beef Sustainability Framework and the programs the Australian beef industry has in place to improve sustainability.
Japan Ministry of Agriculture, Forestry & Fisheries (MAFF) Senior Policy Adviser, Hiroki Sekikawa, gave, an overview of the initiatives being pursued by the Livestock Industry Department at the MAFF's Agricultural Production Bureau.
He said the Japanese government agencies and ministries are engaged in achieving the goals in the
UN's Agenda for Sustainable Development. In the agricultural sector, it will be important to make farmers' efforts visible and make them known to the retail industry, and Good Agricultural Practices (GAP) are an effective means of doing that.
Other speakers included McDonald's Japan Vice President – Supply Chain, Connor McVeigh, who discussed how the company is building a sustainable supply chain through its Scale for Good program.
The program is based on the view that with McDonald's operating 37,000 restaurants worldwide and serving 69 million customers a day, small efforts produce major results.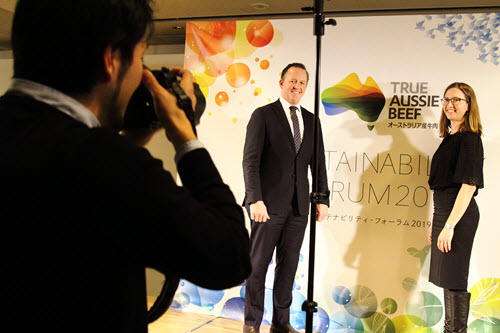 Photo caption: MLA International Business Manager – Japan and Korea, Andrew Cox, and MLA Manager – Sustainability Strategy & Stakeholders, Pip Band, at the Aussie Beef Sustainability Forum in Japan.