Beef
Beef exports totalled 83,400 tonnes shipped weight (swt) in March, showing some resurgence from levels seen in January and February, but still down 11% on March last year. Cattle prices continue to be buoyed as feedlot operators and processing plants struggle to source inventory, a result of the significantly depreciated herd following many years of elevated drought turn-off.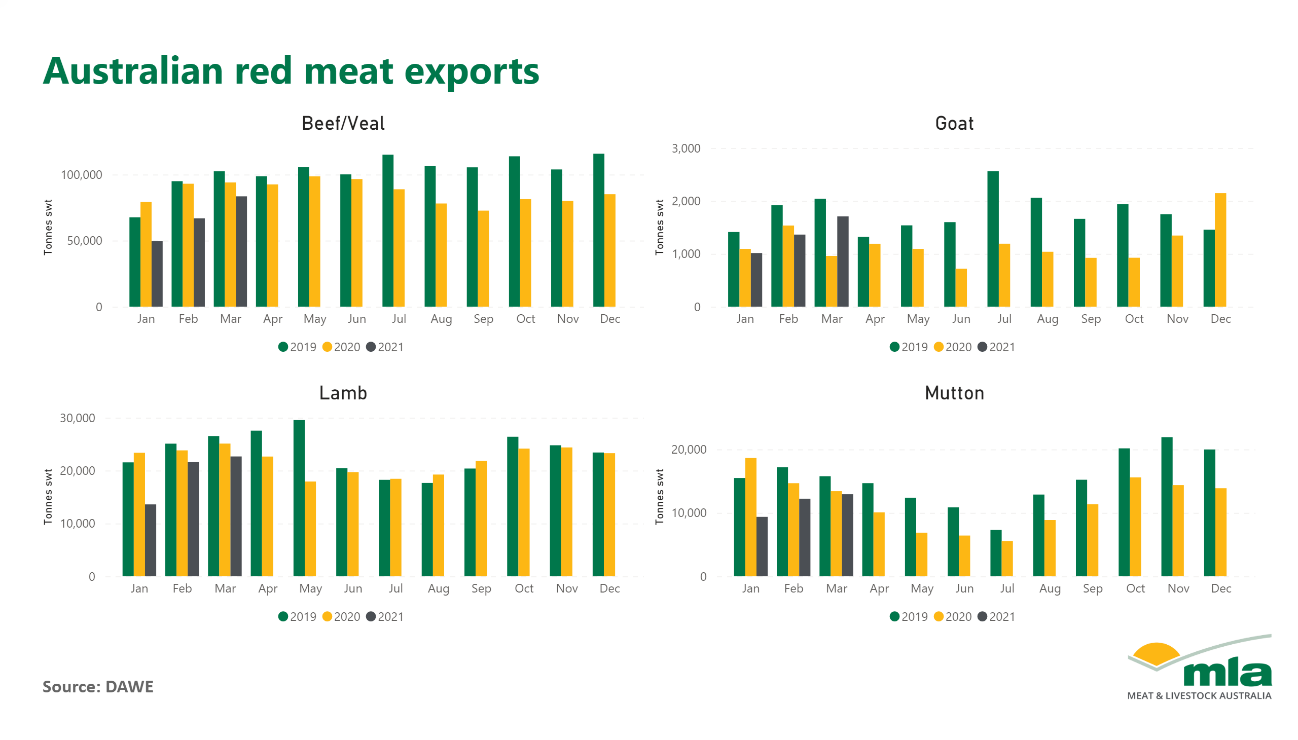 For the year-to-March, total beef exports are now back 25% on 2020. Consequently, Australia's top beef markets have all experienced large year-on-year declines, with exports to Japan, China and the US down 27%, 36% and 44% respectively. South Korea continues to be the steady performer and has been the second largest destination for beef two months running, while exports to the Middle East and North Africa (MENA) are up 15% for the year-to-March.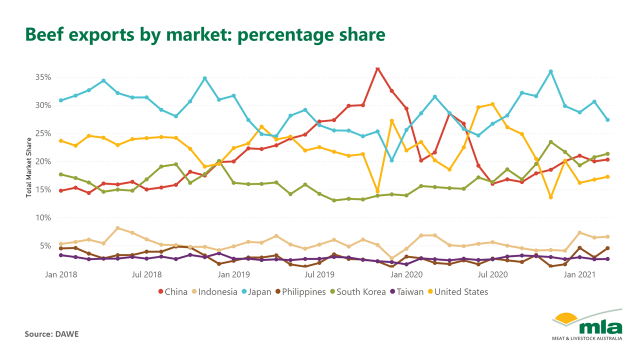 Lamb
Australian lamb exports reached 22,600 tonnes swt in March, taking overall exports for the year-to-March to 57,900 tonnes swt, a dip of 20% on 2020 levels. Competition for Australian lamb between the US and China is evident, with export prices lifting in February.
The US was Australia's top market in March, taking 5,900 tonnes swt for the month. The US continues to capture a growing proportion of Australia's chilled lamb exports, accounting for 44% in March, up from 32% for the same month last year. In the recent US Lamb Report, provided by Steiner Consulting, it was noted that imports of lamb from suppliers other than New Zealand and Australia continue to be limited, providing price support for Australian product.
Unfortunately, lamb trade to the Middle East region has fallen away, largely a result of Qatar ending the import subsidies on lamb in December last year. Trade to the United Arab Emirates has also been quiet this year, back 23% on 2020 levels, likely a consequence of elevated prices as supply remains tight.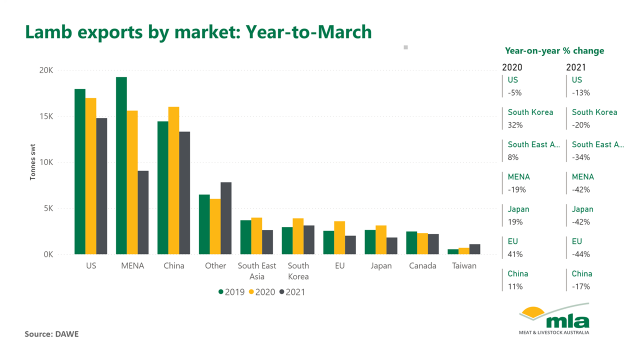 Mutton
Mutton exports were 12,900 tonnes swt in March, a slight lift on February volumes and just 4% behind March 2020. Overall, mutton exports for the year-to-March are back 26%, again the result of subdued slaughter levels primarily impacting the availability of mutton for export. Mutton exports to China have lifted remarkably, up 58% for the year-to-March. Unfortunately, for many other markets, competition from China has resulted in sharp year-on-year declines in the volume of shipped mutton.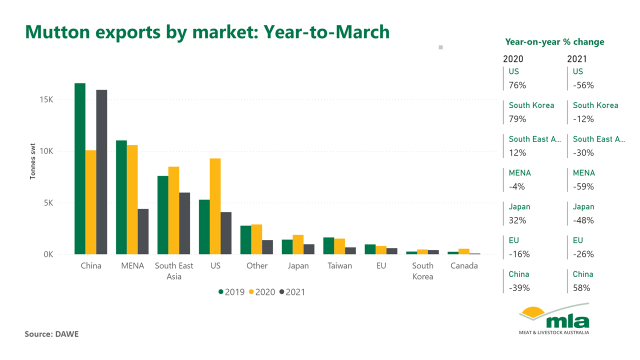 As vaccines are distributed globally and lockdown restrictions are eased, this will be encouraging for tourism and foodservice industries, lending support to demand for imported red meat. However, while it is expected that economic demand drivers should improve relative to 2020, constrained supply remains a huge factor for Australia's export industry. Continuing to build upon high-value opportunities certainly remains critical.
Article credit © Meat & Livestock Australia Limited, 2021