Demand and supply trends have commenced 2019 much like they finished 2018. Drought and elevated numbers on feed have kept kill floors busy and pushed more product onto the export market, supported by a softer A$ and strong global demand. However, an unresolved US-China trade war and Brexit continue to fuel economic and political uncertainty, while African Swine Fever (ASF) and an impending China pork shortage has potential to underpin global meat markets. Meanwhile, beef competition from South America and the US continues to intensify in Asian markets, while NZ sheepmeat supply growth remains constrained.
Weather driving Australian supply dynamics
Australian supply dynamics have had a major influence on export trends during the start of 2019. Drought, which beleaguered many producers throughout 2018, continued throughout much of NSW and Queensland in the first two months of 2019, pushing increased numbers of grassfed cattle, particularly females, through to slaughter. In contrast, unprecedented flooding hit parts of North Queensland in February, devastating some cattle businesses but failing to dent national slaughter rates. At 1.11 million head, cattle on feed were also at record opening levels at the start of the year, providing further fuel to keep kill floors busy.
Cattle slaughter rates have remained elevated but northern supplies may start to feel the pinch as recent rainfall, brought on by tropical cyclone Trevor, halts destocking efforts and fuels restocker demand. The Eastern Young Cattle Indicator recovered losses incurred earlier this year, rallying almost 100¢/kg cwt in March, but lack of follow up rain has seen half these gains recede in the last two weeks.
Sheep slaughter has also remained high throughout the start of 2019, as southern producers grapple with limited feed and water following a poor spring, while lamb kills have tracked close to year-ago levels. Looking ahead, many sheep producers are eagerly awaiting signs of a seasonal autumn break to prevent further flock reductions.
Exports elevated
Fortunately, at a time when drought has elevated supply, global demand for Australian beef and sheepmeat has been strong, supported further by a softer A$ and new year tariff reductions in some markets. In fact, first quarter beef exports increased 11% year-on-year and were the third strongest start to the year on record (after 2014 and 2015), while sheepmeat surged 15% to set a new benchmark.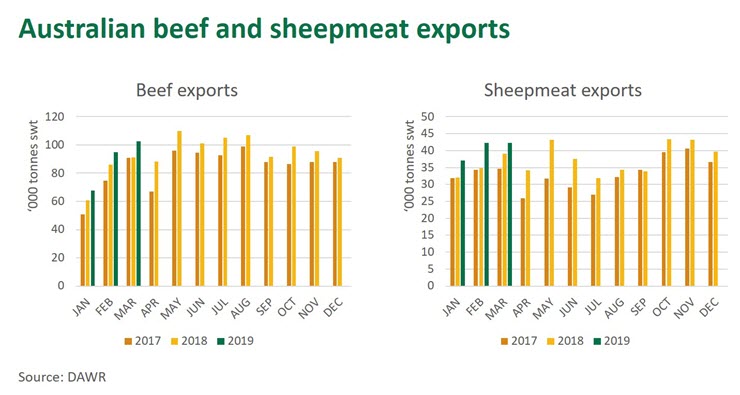 Beef and sheepmeat exports to China led growth, after what was a very strong 2018, but other traditional markets have also recorded a positive start. Beef exports to the US increased 16% year-on-year in the first quarter, supported by elevated cow slaughter and a rallying lean grinding beef market, while Korea and Indonesia each expanded 8%. Beef exports to Japan were near year-ago levels. Lamb exports to the US surged 29% year-on-year in the first quarter, compounded by short domestic lamb supply, while shipments of mutton and lamb to the Middle East increased 3%.
Fresh year fails to reduce uncertainty
While global demand for Australian red meat has been has been positive, much of the political and economic uncertainty that emerged throughout 2018 remains. While discussions are ongoing and a further escalation has been avoided, the US-China trade war drags on – both sides represent key export markets for Australian red meat and tensions risk spilling over into an economic slowdown. Meanwhile, the outcome of Brexit is still unclear, posing economic and political uncertainty to the region.
However, the biggest wild card on the table in 2019 is African Swine Fever (ASF), which has continued to spread across China and has now jumped into Vietnam and Cambodia. While other South East Asian pork industries are also at risk, shortfalls in China will have an overwhelming impact on global meat markets. As discussed in this separate article, estimates of the impact on China pork production range from a 6-30% decline in 2019, with shortages to become more acute as the year progresses. While US pork futures have rallied on this prospect (despite tariffs of 68-70% on US pork entering China) a sustained trade has yet to materialise, with any shortfalls likely being covered by domestic cold stores and poultry for the time being.
While China beef and sheepmeat imports have soared over the last year, these trends were well underway before the ASF outbreak and primarily reflect strong underlying demand and improved market access.
Meanwhile competition continues to ramp up from key global beef suppliers. As highlighted below, more than half a million additional tonnes of beef has flown onto the global beef market from Argentina, Brazil and Uruguay over the last two years, while almost 400,000 tonnes swt of additional product has come from Australia, New Zealand, the US and Canada over the same period. India was the only major exporter to record a marked decline but little product competes directly with Australian boxed beef. Compared to two years ago, there's a lot more beef floating around the world from key players and most of that growth has gone into Asia. Available trade data on major South American suppliers and the US suggests export growth trends from 2018 have continued into the new year.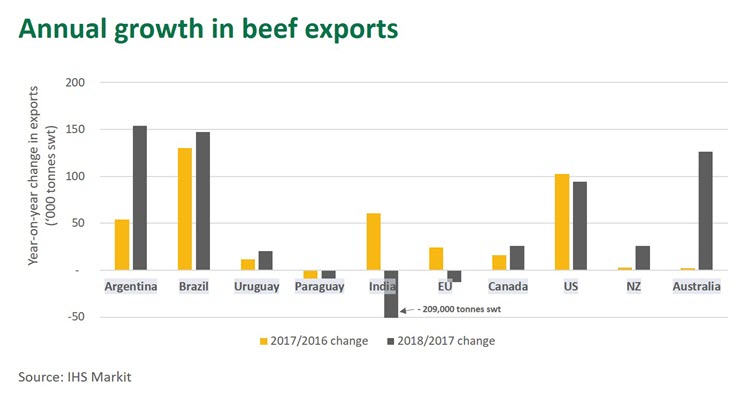 While New Zealand sheepmeat exports increased 3% year-on-year (or almost 13,000 tonnes swt) in 2018, supplies from Australia's primary competitor have remained subdued in recent years. Moreover, even modest growth in Australian exports has been unable to keep pace with strong global demand, led by China and the US.
CREDIT: www.mla.com.au